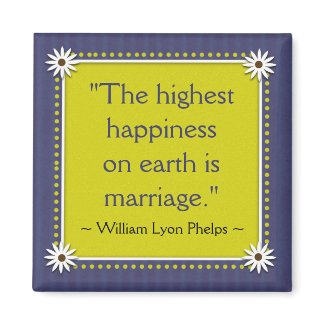 Happy Marriage Quotes Magnet
by
semas87
Make a Magnet
at zazzle
Today is my 24th wedding anniversary and I crafted a squidoo lens with 24
wedding anniversary quotes
to reinforce the uniqueness of marriage.
A few quotes from it....
"An anniversary is a time to celebrate the joys of today, the memories of yesterday, and the hopes of tomorrow."
~ Author Unknown ~
"There is no more lovely, friendly and charming relationship, communion or company than a good marriage".
~ Martin Luther ~
Sharing this post at
Sunday citar
which is a wonderful place to share and read great quotes every week.