'Live this moment'
is my affirm mantra for this week.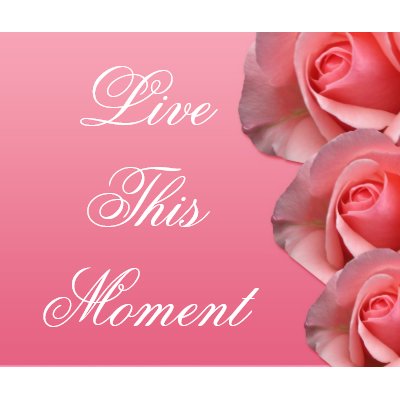 3 word quote-Live this moment -Motivating mousepad
by
semas87
Everyday is made up of moments that will never be repeated. When we live with awareness of this precious moment we will learn to appreciate the beauty and uniqueness of our life.
Here is a
b

ook that shows us very

beautifully how to

Live this moment!
The book
1,001 Ways to Live in the Moment
offers readers a rare gift: the chance to stop right here, right now and truly celebrate the present moment.
This uplifting volume is filled with enlightening activities, poignant observations, and affirming quotations that highlight the simple joys that surround us every moment of every day. Whether it's handwriting a letter to an old friend or taking the time to admire the first flowers of spring, this simple and motivating guide will help anyone discover, or rediscover, the countless reasons why a life worth living is a life worth enjoying.

Live this moment! Have a great day!