NEVER GIVE UP
conveys my six words in 3 words!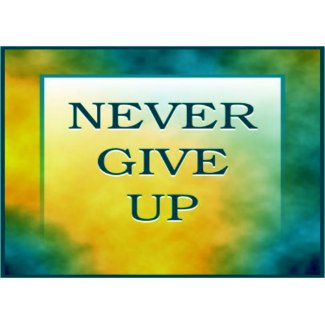 NEVER GIVE UP
by
semas87
Browse other
3 word quotes Cards
'It's not over until you win'
I had chosen these words for my 6WS entry at
show my face
and was planning to design a card for it.But,I just got a mail telling me the sale of my card with the 3 word quote
'NEVER GIVE UP
'. As the message is the same I thought I'll share the card with all as the image for this post.
3 word quotes
are wonderful words to motivate and inspire oneself.They act as tools of encouragement to stay optimistic, motivated and focused.You can see more inspiring
3 word quotes
at my zazzle store
,
REFLECTIONS.
Another tip I got today in my mail and this is a 6 word too!
"Finding the Positive in the Negative"
When we find the positive and never give up we will win in the end!