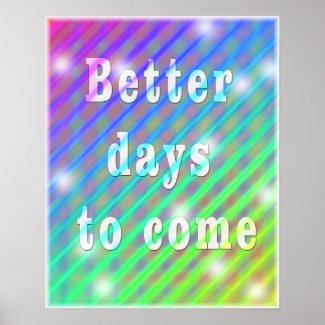 Better days to come - Motivational Words
by
semas87
Search for another
posters online
at Zazzle
Hello friends,
Writing in my blog after nearly a year. Missed the platform to share my views but life has a way of taking you in different directions and changes your priorities for the moment.
All of us wish for peace and contentment in life. When your mind is troubled nothing seems important . Your first priority is to solve the immediate disturbances. We must remember to take the necessary action but also that firefighting has to be followed by taking preventive steps .
Today is my father's birthday and I share one of his motivating messages here.

'Better days to come' is a phrase he used often to motivate me whenever I was losing my mojo.Growth and success in life can be seen by taking consistent and persistent action. Never feel low when things happen slowly or go wrong but always remember that 'better days will definitely come' when you do what you have to do and give your best.
He was the pillar of support to pull us up when challenges disturbed us and give us confidence that we will succeed one day .
He believed that success can only be delayed not denied if we do our work with the right principles.
He is no more to see that we have proved his confidence in our success but continues to guide us through his words.
Wishing all a great week ahead,
Blessings for abundance
Sema