The inspiring words of
quotes on following your dreams
motivate you to start the new year with confidence.They are
encouraging quotes
to inspire you to
live your dream
.
Dreams help us with visualizing our goals and let us begin the new year with dreaming Big!
A few quotes to remind you that dreams do come true...
"Dreams can come true...if we have the courage to pursue them."
~ Walt Disney
"Keep your heart open to dreams. For as long as there's a dream, there is hope, and as long as there is hope, there is joy in living."
~ Anonymous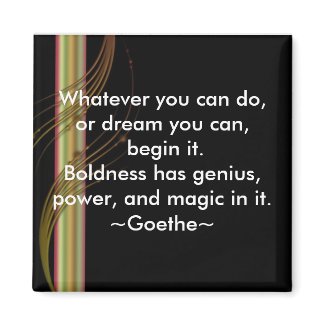 Begin-Goethe-Motivational Magnets
by
semas87
See more
Quote Magnets
"The future belongs to those who believe in the beauty of their dreams."
~ Eleanor Roosevelt
" Dreams are renewable. No matter what our age or condition, there are still untapped possibilities within us and new beauty waiting to be born."
~ Dr. Dale E. Turner
Sharing these inspiring quotes for
Sunday Citar at
Fresh Mommy
Wishing all my blog friends a Happy New Year and may all your dreams for the year ahead come true !
Blessings for abundance
sema
This is my first post this year and my dream for Affirmart is to make it a motivational blog that all will come for inspiration and dose of positivity.
What is your dream for your blog this year?