The
words of wisdom
of buddha are inspiring words that guide us to grow spiritually. The following buddha quote reveals to us the eternal truth that only this moment is real.So,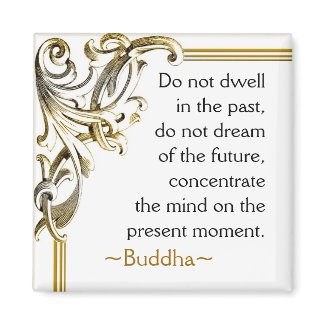 Buddha Quote ~ Motivational Magnet
BUY NOW
" Do not dwell in the past, do not dream of the future, concentrate the mind on the present moment."
~ Buddha

This message can be applied whenever we feel the emotions of doubt or fear arise in our minds.We can ask ourselves...

Does anything change by thinking of the past or dreaming of the future?

Only this moment is real!

Your present thoughts and the following actions you take in this moment will shape your future.So concentrate on doing your best this moment.

I have been away from this blog for more than 3 months and was missing the connection with other bloggers.I wanted to start again and this quote by buddha guided me in not regretting for neglecting my blog and also worry how I will move foreword in blogging.It is enough if I just concentrate on the present.
A positive affirmation from the quote...

I value,enjoy and do my best in the present moment.
This is my first Words Of Wisdom post and I would love to hear your feedback on this post. (as I plan to write similar posts every Wednesday on different quotes and my reflection and affirmation from them.)
Blessings for abundance
Sema
You can find more Buddha quotes >>>
Famous Buddha Quotes
You can download this quote as free desktop wallpaper for your computer >>>
Buddha Wallpapers
Books on Buddha's Teachings for inspiration....